Diabetes Awareness Month: HBOT Healing Wounds and Saving Lives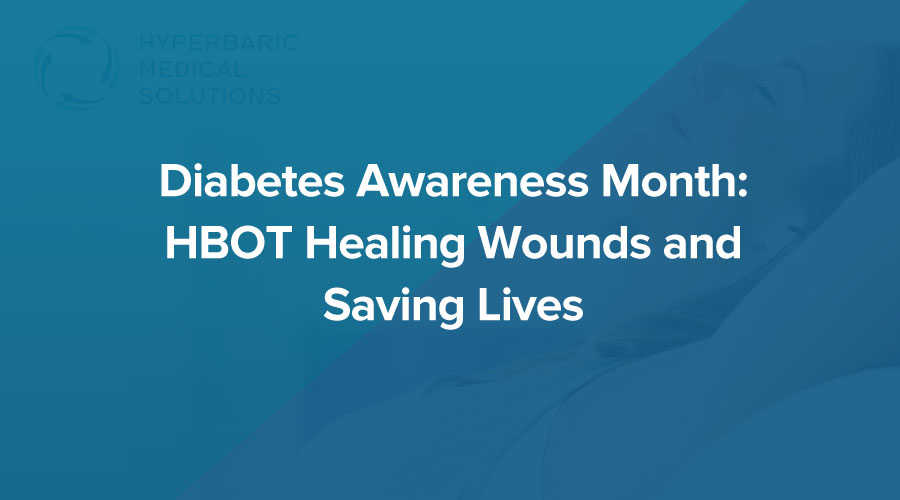 November is National Diabetes Awareness month. Unfortunately, diabetes is a growing epidemic, debilitating millions of Americans. While prevention is the top priority, the impact of this disease can reach severe levels, including amputation of limbs after non-healing wounds become infected.
Diabetic foot wounds are estimated to impact as many as 25% of the 29 million Americans living with diabetes. Approximately 50% of these wounds will become infected, and 20% of the infected wounds will result in amputation. Although HBOT can prevent amputations, currently only about 11% of patients at risk of amputation from infected diabetic foot wounds access HBOT. Our goal at Hyperbaric Medical Solutions is to change that.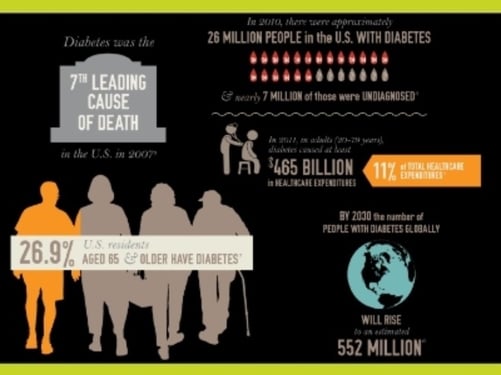 We recently treated a 65 year old diabetic female with a wound on her foot that simply would not heal despite standard care from her podiatrist. Three of her toes had already been amputated in the last several years because of similar wounds and infections and she was anxious to avoid further amputations that would limit her mobility. Her podiatrist referred her to our Manhattan location to use Hyperbaric Oxygen Therapy (HBOT) to advance the healing of her foot ulcer. Covered by her insurance, after 30 HBOT treatments, the wound completely closed and her toe was saved.*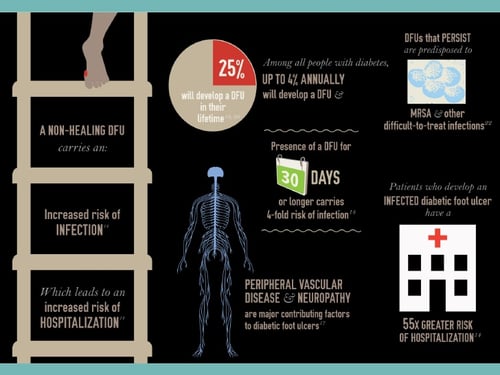 What Is HBOT & Who Can Benefit?
HBOT is a non-invasive, safe, and well-tolerated medical treatment designed to support health and manage disease, with an emphasis on improving the lives of those with chronic illness, such as diabetes. Beyond chronic diabetic wounds, HBOT has been proven effective in treating chronic osteomyelitis (bone infections), radiation tissue damage during cancer treatments, crush injuries, failed skin grafts and flaps, and more. Positive outcomes for other conditions (in which HBOT is considered investigational, or "off-label,") include traumatic brain injury, stroke, multiple sclerosis, inflammatory bowel disease, and autoimmune disorders.
How Does HBOT Work?
During each treatment session, a patient breathes 100% oxygen within an enclosed acrylic tube under increased atmospheric pressure. HBOT increases the oxygen saturation of the blood, resulting in a cascade of positive healing effects, such as reducing inflammation, developing new blood vessels, restoring health of collagen, bone and cartilage, and mobilizing the body's own stem cells to repair tissue and organ damage.
HBOT sessions last between 60 and 90 minutes (during which patients can relax and watch TV) and are conducted under the supervision of technicians and medical staff. Treatment protocols are determined by the physician, but typically consist of a minimum of 30 treatments. Patients are encouraged to attend sessions as regularly as possible for optimal benefits.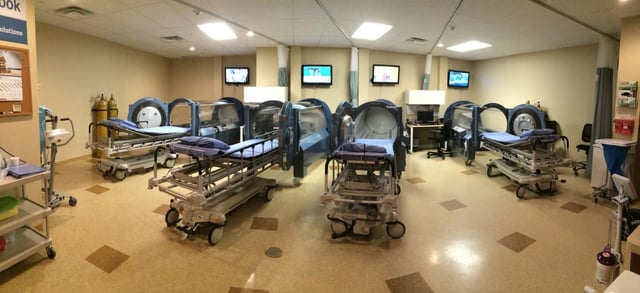 Woodbury treatment room with 4 hyperbaric chambers.
What Are The Risks?
HBOT has very few risks or side effects. The most common side effects are mild cases of barotrauma or temporary changes to vision. A very rare complication of HBOT is oxygen toxicity. In our four years and over 18,000 treatments, we have not had a single case of this. However, if it should occur, it is only temporary and simply requires a break from therapy. The treatment is administered with 100% medical grade oxygen - no chemicals or synthetic compounds are applied or ingested.
The Free-Standing Difference
Hyperbaric Medical Solutions provides a more personal, comfortable, and convenient experience, at a far lower cost to the patient than a traditional hospital setting. Our private medical offices fit the new cost conscious paradigm in healthcare, offering lower co-pays or co-insurance responsibilities. Complications from diabetes, including amputations, can be extremely expensive. Preventing an amputation with HBOT, together with other advanced wound care techniques, provides significant long term health benefits as well as savings to a patient's family and overall healthcare system.
We have seen our patients experience remarkable results using HBOT for many different conditions. Like the patient mentioned earlier, many wish they had discovered HBOT sooner. We encourage you to explore how HBOT at Hyperbaric Medical Solutions may benefit you or a loved one.
*Hyperbaric Medical Solutions makes no guarantees regarding treatment results.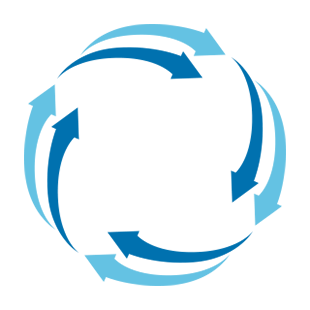 Written by Hyperbaric Medical Solutions
Hyperbaric Medical Solutions is a free-standing, independent medical practice, providing hyperbaric oxygen therapy (HBOT). HBOT is an advanced healing therapy that treats conditions that benefit from increased oxygen concentration and absorption in the body....
Read More