Cancer Treatment Synergy
If you're receiving treatment for cancer, Hyperbaric Oxygen Therapy (HBOT) can work in synergy with surgery, chemotherapy, and radiation. HBOT may also mitigate the side effects of chemotherapy (such as 'chemo brain') and radiation, and decrease the recovery time after surgical procedures. In addition, HBOT is FDA-approved to treat latent radiation injury.
Furthermore, the metabolic approach to cancer treatment incorporates specific dietary modifications, such as the ketogenic diet, and employs various personalized lifestyle therapies in combination with HBOT.
Some physicians and patients are concerned that HBOT may actually accelerate the growth of cancer. Several recent studies have shown this not to be the case.
The use of HBOT to treat cancer side effects aims to reduce the damage to healthy tissue and blood vessels caused by radiation exposure, helping the body become stronger and fight off the disease.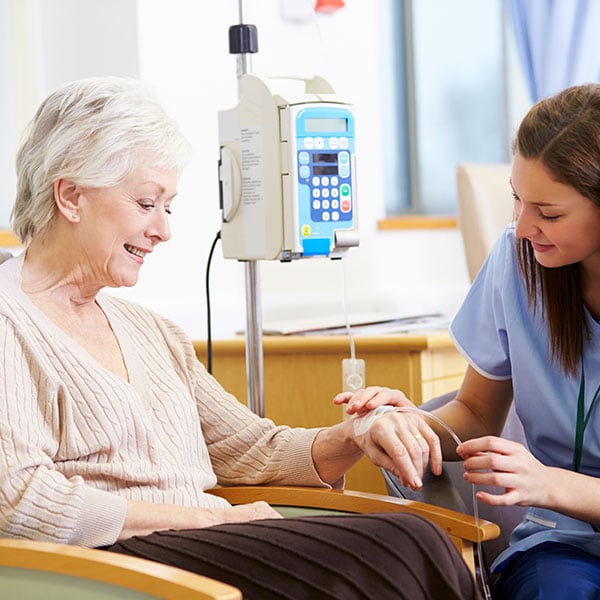 HBOT for Cancer Treatment Synergy
HBOT benefits patients undergoing cancer treatment in the following ways:
Reduces side effects from radiation exposure
Increases blood oxygen levels
Helps regrow damaged blood vessels
Improves immune system function
Increases the release of stem cells from the bone marrow
See if HBOT is Right For You
Our experienced clinical team is available to help you find out if you're an appropriate candidate for Hyperbaric Oxygen Therapy and to answer any additional questions about HBOT and our facilities.
You deserve the best – our mission is to achieve patient success through personalized, innovative, and compassionate care that enhances your healing potential. We do so at the lowest possible out-of-pocket cost, with only one copay and/or less coinsurance than at a hospital-based HBOT program.
Call us today at (646) 846-2081 or click the "Get Started" button to take the next step with Hyperbaric Oxygen Therapy and learn how it can help you accelerate healing and achieve optimal health!
Experience HBOT at These Locations