Referral patterns and Gaps in Financial Coverage for Sudden Sensorineural Hearing Loss (SSNHL) with Hyperbaric Oxygen Therapy (HBOT)
The practice of hyperbaric oxygen therapy is fascinating, and one of the reasons that I enjoy working in the field of Hyperbaric Medicine, is for the positive way in which this treatment can improve patients' lives. Sudden Sensorineural Hearing Loss is one of the many indications where the addition of HBOT to the treatment plan can offer significant benefit. Sudden Sensorineural Hearing Loss (SSNHL), which is also termed Idiopathic Sudden Sensorineural Hearing Loss (ISSHL), involves a spontaneous onset of hearing loss that usually presents over less than 72 hours. In most cases, the cause is unknown.
Sudden hearing loss is listed as one of the approved conditions for which hyperbaric chambers are cleared for marketing by the FDA. However, Medicare does not include it on the list of covered indications. It is not typical for the FDA to approve the use of a HBOT for a diagnosis when Medicare does not. It is also unusual for some commercial insurance plans to approve coverage of a certain indication when Medicare does not consider that condition as an approved indication. However, with this diagnosis a small number of commercial insurances provide coverage while other insurers, including Medicare, do not. The discrepancies in insurance coverage may limit provider referrals and may prevent patients from seeking care because of fear of an out-of-pocket cost.
Over the years, I have treated and spoken to many patients suffering from this condition. I became interested in the ways in which these patients were learning about HBOT and about the varying degrees of insurance coverage for their care. This was often a topic of discussion at the clinical meetings with my HMS colleagues and during these discussions a research project was hatched.
With the help of my HMS colleagues, I set out to perform a study to evaluate the experiences of patients with SSNHL as it relates hyperbaric oxygen therapy: how patients heard about it and what kind of reimbursement, or insurance coverage (if any), they received for their care.
The result of this research, I am proud to say, was recently published in the Journal of Otolaryngology and Rhinology Research.
As you can see in the full paper: Referral patterns and gaps in financial coverage hinder appropriate treatment of Sudden Sensorineural Hearing Loss (SSNHL) with Hyperbaric Oxygen Therapy (HBOT),the study was a web-based survey of patients with SSNHL from across all our HMS sites. The survey focused the referral process, level of awareness in the general population, and level of awareness in the medical community, regarding the use of HBOT for this diagnosis, as well as the reimbursement process. A total of 179 people received the survey and 62 participated.
Respondents Referral Source for Patients with SSNHL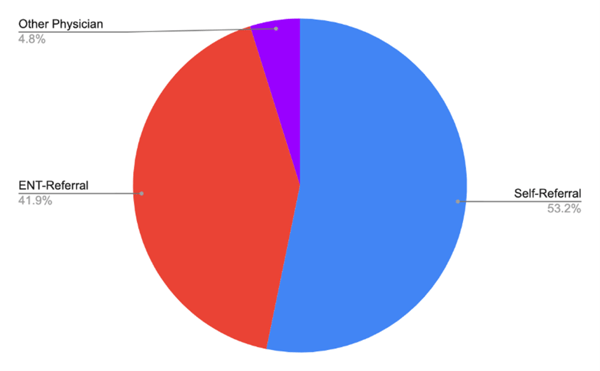 Of note, the survey results showed that more than half of the patients, 53.2%, surveyed consider themselves as self-referred to HBOT and reported that they were not told about HBOT as a treatment option by a specialist. Additionally, more than 67% of the patients surveyed report that their medical insurance did not cover the cost of HBOT.
Overall, the participants reported the successful use of HBOT, with 55.8% having complete or partial improvement. This rate of improvement is potentially higher considering more than half of the patients surveyed reported that they did not complete the recommended course of therapy with many citing costs as the barrier to care.
Respondents Insurance Coverage for SSNHL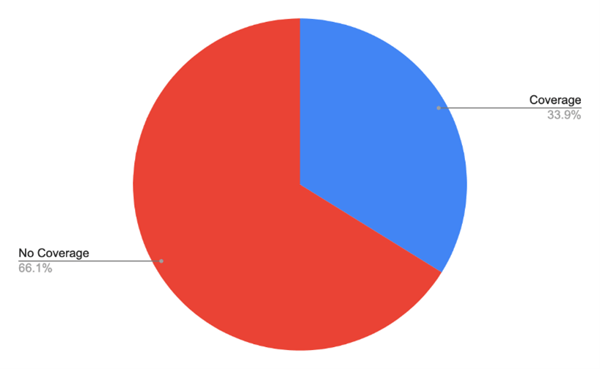 This information is significant because it illustrates that patients may not be adequately educated by specialists regarding the addition of HBOT to their plan of care. When the information is conveyed, it is often delayed from symptom onset. We know that the use of HBOT for this diagnosis is time-sensitive - the sooner HBOT is started, the better it works. So this delay in referral can prevent effective treatment for those patients.
Additionally, many patients who are recommended to receive HBOT are denied coverage by their insurance carriers which prevents access to appropriate care and presents a financial burden to those who seek care regardless. The patterns we noticed regarding referral, timing of referral and financial coverage show that many patients of the patients surveyed are receiving care that is not evidence based.
Completed survey responses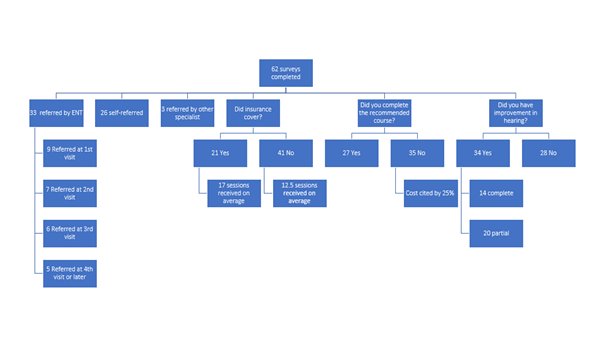 After reviewing this data, it is our recommendation that specialists who evaluate and diagnose SSNHL also provide education regarding the addition of HBOT to the plan of care. It is recommended that acute care, ENT, primary care and other specialists who encounter SSNHL receive education to increase awareness regarding local quality HBOT providers that can provide care to their patient referrals. It is also recommended that the diagnosis of SSNHL be added to the list of Medicare and all other third-party payors approved indications to offer equitable financial coverage.
Our goal is to create access to all who can benefit from HBOT and to help our patients get the best possible outcomes. This is why we advocate for timely and cost effective hyperbaric care for treatment of the diagnosis of SSNHL.
If you have any questions about Sudden Sensorineural Hearing Loss (SSNHL), or would like to discuss treatment options with a healthcare professional, please feel free to contact us for more information or schedule a consultation.